Posted on
April 2, 2009
by Anthony
I've been looking through a bunch of Star Control stuff when I decided to read through the manual for Star Control 1.  I found a brief and hilarious biography with a photo that caught my attention.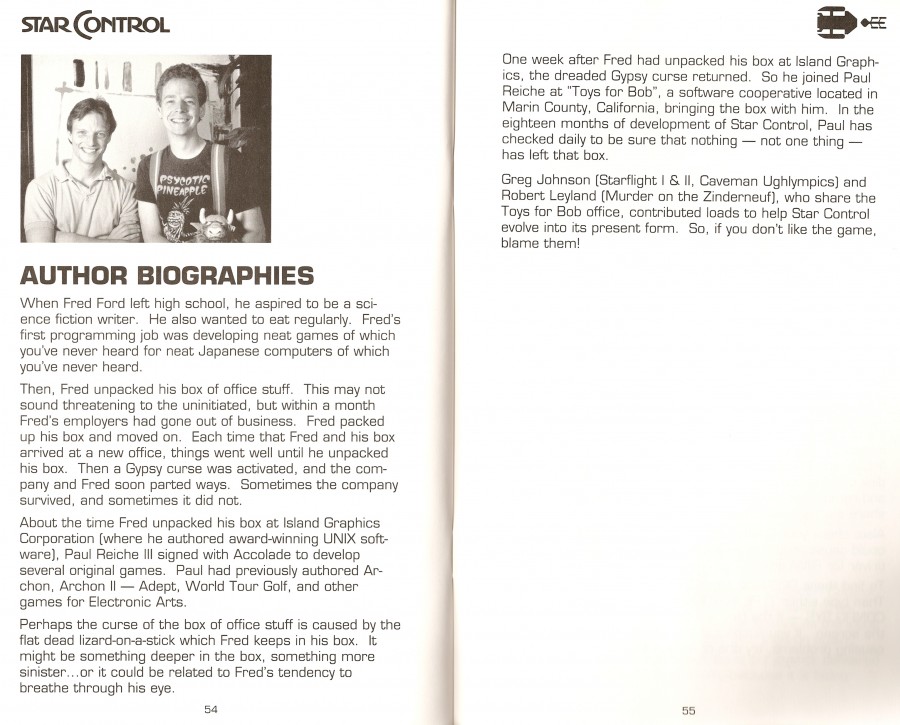 Page 54-55 of Star Control PC Manual
Yes, it's a picture of the Star Control gods!  After I looked at the photo a bit longer, I realized that this is not a simple bland "this is what I look like" type of photo.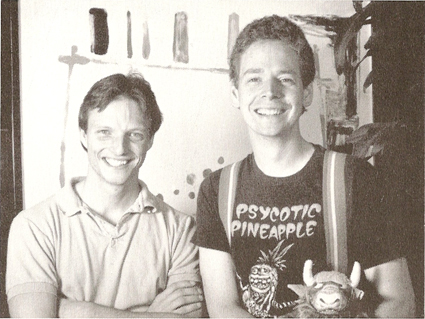 From Left to Right: Fred Ford, Paul Reiche III
A bunch of questions popped in my mind:
What's Psycotic Pineapple?
What's that stuffed bull at the bottom?
What's that painting in the background?
Why is Paul wearing suspenders?  (Just kidding, I never really asked :D)
Out of curiosity, I decided to write an e-mail to the Toys for Bob kingpin himself, Paul Reiche.  This is his response:
Hi Anthony!

Let's see...

Tommy Dunbar, the musician who crafted the Archon theme as well as most of the SC1 'ship ditties' is an old friend and lived at my house for a few years. Besides his main band, The Rubinoos (check out their history, it's epic!), Tommy also played in Psychotic Pineapple from time to time ‐‐ I think as 'the Pineapple'. I love that shirt! Another member of the band was the t‐shirt's artist, John Seabury ‐‐ an excellent and fellow. (googling...) Here's a link to a current pic of John and note his shirt!
http://flickr.com/photos/daisywares/2354490109/

The background? Heck if I know. It was at Accolade in their lobby, I think. Man, Fred is sharp‐looking! Anyway, I am holding my favorite Where The Wild Things Are doll, which made me more comfortable with the whole oh‐god‐they're‐taking‐a‐picture‐of‐me panic. I don't know how I feel about them making that movie, by the way. It treads on dangerously fundamental psychic turf for me. Next thing, they will be making a Matthew Looney movies, featuring the dread 'Lava Five Bomb'.

Anytime, Anthony!

‐ Paul
I never expected a connection between the band Psycotic Pinapple, Star Control 1 & 2 and Archon!  Tommy Dunbar is credited as "Tommy V. Dunbar" in those games.  He is also the founding member of The Rubinoos.  In 2007, he was involved in a lawsuit against Avril Lavigne over similarities between her song "Girlfriend" and The Rubinoos song "I wanna be your boyfriend".  The charges were later dropped.
The abstract art painting in the background still remains a mystery.
The bull at the bottom is from a 1963 children's book called "Where the Wild Things are".  I've never read it before.  It is about a kid who is sent to his room, where he imagines a land of monsters called "wild things".  There is a movie being made, directed by Spike Jonze.
Matthew Looney is a non-human character in a series of books in the 1960s and 1970s about Matthew and Maria Looney who live on the moon.  I've never read any of these books either.  Their civilization is similar to humans.  Matthew is very curious about life on Earth and wants to travel there to explore someday.
So there's an explanation of some things in the photo above and a bonus peak into the mind of Paul Reiche.
Thanks Paul for taking the time to write to me.