Posted on
June 28, 2010
by Anthony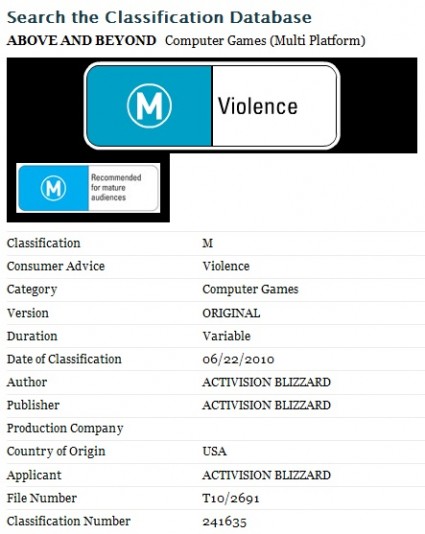 Above and Beyond's rating on Australian Classification Board
There has been some news that has popped up today regarding an unannounced game from Activision-Blizzard.  It is called "Above and Beyond".  As of this writing, the only information about this game is from an Australian classification board.  The information given is that it has been given a mature rating and listed as "computer games (multi-platform)".  Superannuation was the first site to post this discovery.
Please keep in mind that the ESRB does not have "Above and Beyond" listed as of this writing.  The criteria between Australia and North America ratings can be different.  The words "mature" and "violence" does not necessarily mean it will be a bloody game with excessive profanity.  The Australian Classification board has a separate MA 15+ rating for "Strong coarse language", "strong violence", "blood and gore" and "strong horror violence".
Some blogs have even linked back to an article I wrote back in October about Shaba Games closing down.  I wrote to Alex Ness about it because a few years ago, he told me that some employees at Shaba supported the idea of a new Star Control game.  With the announcement of Shaba closing, Alex said that some of the people they hired previously worked at Shaba and their team is starting to grow.  Alex also gave another small hint that their unannounced game will "feel more classic Toys for Bob".
I have no idea if Above and Beyond is TFB's new game.  There really isn't much information given other than the Australian Classification board rated it "mature", author and publisher is Activision-Blizzard and it wasn't in this year's E3 convention.   If more details emerge about this game, I'm not quite sure how the ESRB will evaluate it.  From the above image alone, there is nothing to suggest that it has ties to Star Control or Toys for Bob.  It's a game title nobody knows about from a giant third-party publisher.  Overall, I'm glad that speculation towards TFB's secret project and Star Control is spreading quickly through different video game sites.  Sooner or later, there will be more news about this game and hopefully things will be clearer.  After seeing so many E3 videos, it's obvious this year will be another interesting one for video games.  Just because it wasn't in E3, doesn't mean that we won't hear more about this game in the future.
Links
Farewell Shaba Games
Above and Beyond - Australian Classification Board
1UP.com's article about Above and Beyond
Superannuation's article about Above and Beyond
ComputerAndVideoGames.com's article about Death Ride and Above and Beyond