Posted on
December 16, 2010
by Anthony
I remember wanting to write about the first bundle and I was so busy with work and I didn't have much time to go to my blog and write.  In a nutshell, the humble bundle gives players the chance to pay any amount they choose (minimum $1), decide where the money goes and receive a link to download all 5 games  for Windows, Mac OS X and Linux.  The humble bundle will continue for the remainder of this week; the website has a counter on the top of the page.
These games are:
Braid
Cortex Command (work in progress)
Machinarium
Osmos
Revenge of the Titans (work in progress)
The two games that are currently in progress, Cortex Command and Revenge of the Titans, their betas can still be downloaded.  When the games are updated or completed, the versions on the humble bundle will be updated.
Arne did the art for Cortex Command.  Arne is also a fan of Star Control.  His posts can be seen in the PONAF and UQM forums.  There's even a cameo by the Spathi in the intro of Cortex Command: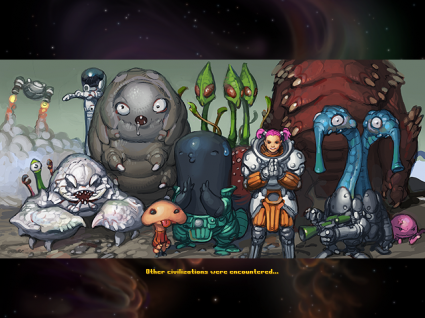 When $1 million was raised with the last humble bundle, source code for Gish, Lugaru, Aquaria and Penumbra: Overture were released.  For this humble bundle, John Graham (president of Wolfire Games) did not make any statements whether or not anything will happen if this bundle should reach $1 million like the first one.  Actually, John kept a lot of secrets about his plans on the bundle.  He did mention that he has considered getting Minecraft into the humble bundle.
Please support the Humble Indie Bundle.  Pay $1 or more, decide where the money goes and get 5 cross-platform games with no DRM.  As of this post, they have raised over $795, 000 with only 4 more days remaining.  Support indie developers and check out Cortex Command and Arne's artwork.
Links
The Humble Indie Bundle
IndieGames: 25-minute interview with John Graham of Wolfire
Data Realms
Arne's Android Arts Page
Arne's blog
John Graham: "Star Control III sounds like it could be pretty sweet"
EDIT: Minor correction. Source code for 4 of the 5 games for the last humble indie bundle were released by the developers.