Posted on
September 14, 2008
by Anthony
I was searching through my Star Control collection, and I decided to read through the booklets for the first Star Control game, and I remembered that Accolade included a PC Game catalog to get players to order games to be delivered straight to their homes.  This is a very old sales method, and other companies such as Apogee (now 3D Realms) used this method as well.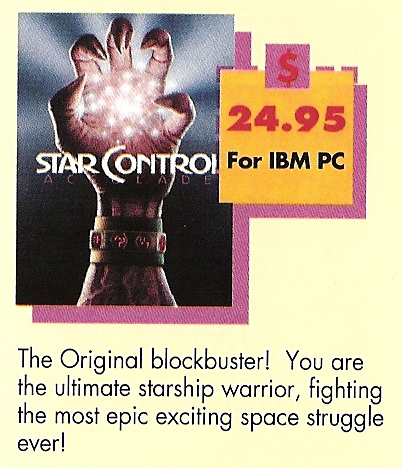 "The Original blockbuster!"  The game that started it all.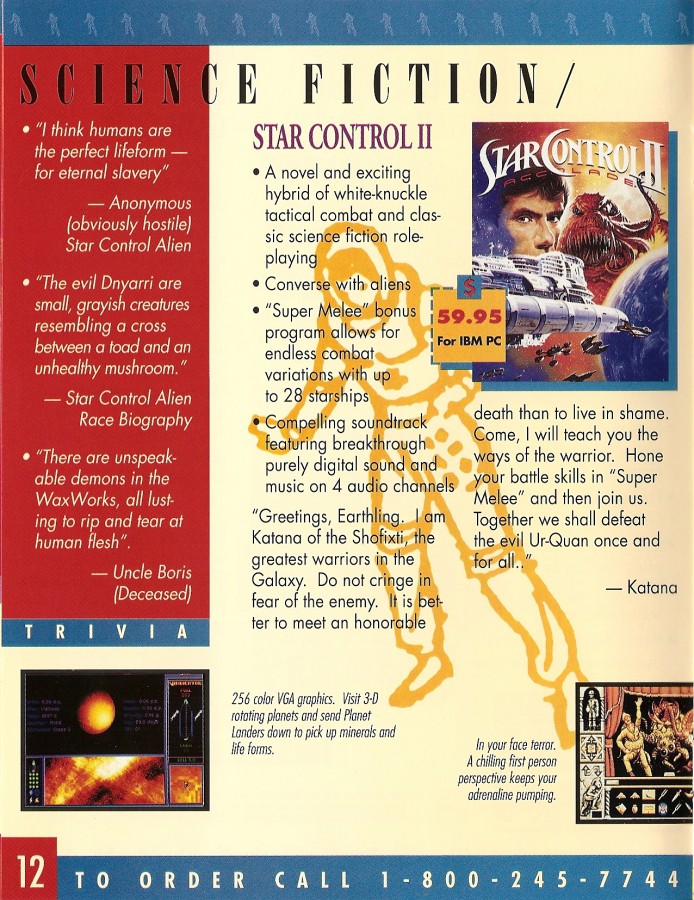 "Come, I will teach you the ways of the warrior."  Note the flagship in the bottom-left corner has the name "Vindicator" for the ship.  The default name for the released PC version is "Unnamed".  Vindicator became the default name for the 3DO version.
Out of curiosity, I tried to call that 1-800 number just to find out who would answer, and it is no longer a valid number.  Not that I was expecting anyone to scream "STAR CONTROL RULES!", although that would be awesome.
Even though Accolade's assets are now owned by Atari, it's good to know that they advertised their games as much as their other games, even they were known more for their sports games at the time.  I remember that I discovered Star Control because my father installed it on our old computer years ago, and I have no idea how he discovered it.  A few years later, my brother heard that Star Control II was out and we had a difficult time finding it.  Around this time, WarCraft II just came out.  We didn't have Accolade's catalog at the time; the Star Control collection I have now is a bunch of things I won on eBay.
Eventually, I downloaded an abandonware version of Star Control II.  I read about how Star Control II had voices in it, and I asked in an IRC channel where I can find these voices, and someone replied "http://sc2.sf.net".  After downloading the re-release, I read about The Ur-Quan Masters and its history.  At that point, it was the first time I have ever heard about the dead 3DO console.  I actually tried to buy a 3DO at one point on eBay, until someone placed a bid of $200, at which point, I started looking for an emulator after I got the Star Control II disc.
After reading these pages, I thought about the new Star Control sequel Toys for Bob wants to start working on.  Once they get started, it's up to us, the fans, to start "pulling those strings" and use whatever connections we have to ensure that it is well-advertised, gets good reviews, and that the gods at TFB get enough time to get everything perfect!  I'm not condoning anything bad or illegal, just to make sure that Star Control gets its fair share in the spotlight, so that the Star Control fanbase can grow larger, and if TFB wants to make another sequel after that one, there will be more people waiting for "Star Control 4" this time.
Toys for Bob makes games for Activison, and WarCraft (which I mentioned earlier) was made by Blizzard.  I think it's interesting that Activision and Vivendi Games (who owns Blizzard) merged together to form Activision Blizzard.  Unfortunately, I have no idea how this new partnership may affect Star Control.  If anything, I certainly hope its for the better.