Posted on
August 21, 2009
by Anthony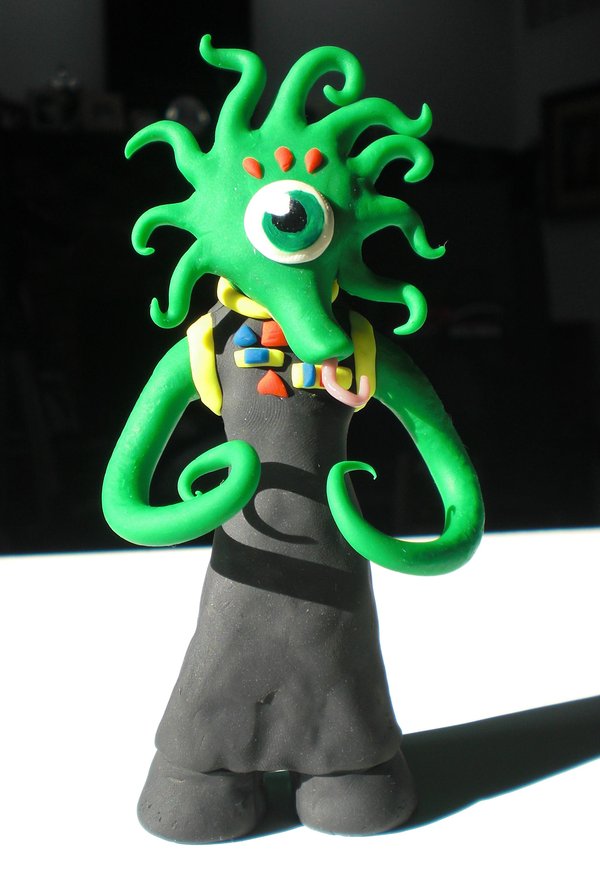 Zarla is a big fan of Star Control and has created many images based on Star Control II. Her most favorite character is Admiral ZEX, a VUX with a passion for collecting grotesque creatures who asked the Captain to capture the VUX beast in exchange of the Shofixti Maidens only to turn against him and attempt to capture him instead.  For her birthday, she received a clay sculpture of ZEX from her friend, MoroNoKimi:
FAR SUPERIOR PHOTO FTW.

Happy Birthday ~zarla! I hope you like him! I worked like mad to get him done in time.

He was mailed and is now in Zarla's possession :D
Go here for some pictures of him in his new home! [link]

ZEX is from Star Control 2.

Made from sculpey clay. The eye was painted with gouache and was then coated in clear varnish. The tongue was also varnished to make it shiny.

There are a few imperfections but overall I'm very pleased. I almost think I'm better at making things with sculpey than I am at drawing.

- MoroNoKimi
It's a very beautiful sculpture of ZEX; it's bright, colorful and the tentacles look smooth and organic.  I remember when I was in Grade 11, I had an art class and we learned how to sculpt clay and bake it at the correct temperature to harden it.  I also learned how to use toothpicks to make things more stable and make imprints and patterns on the surface.  Although what I made in my art class wasn't very impressive, I certainly understand the work MoroNoKimi put into sculpting Admiral ZEX and it was well worth it.  It's very awesome!
Here are some photos that Zarla has taken and posted on her blog:
Thank you Zarla for taking the time to share your new present with the world and thank you MoroNoKimi for taking the time to create the ZEX sculpture.
Links
"If I'm thinking of the right guy" by Zarla
Admiral ZEX sculpture on DeviantArt
Admiral ZEX Plushy