Posted on
October 15, 2009
by Anthony
I was on GameTrailers.com, looking at trailers for upcoming games.  I saw a new addition to a familiar licensed video game series: Madagascar Kartz.
The first thing I thought was "Could this be what Toys for Bob has been working on since their last announcement?"  They did the first 2 Madagascar games which were mildly successful due to its family appeal.  It would only be logical for Activision to choose Toys for Bob for this installment.
Although no developer is credited in the above trailer, I am very certain that the name "Bob" appearing near the end of the trailer is a reference to Toys for Bob: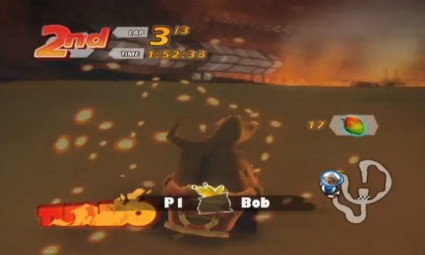 Bob… as in Toys for Bob?
Other than a Madagascar game, I even considered the slightest chance that TFB may be working on a completely different IP.  This is the first announcement of Madagascar Kartz.  According to Kotaku.com, it will be released October 27 for Xbox 360, Wii, PlayStation 3 and Nintendo DS.
So, what does this mean for us?  After their game is released, they'll discuss the next project with Activision, thus creating another mystery about what they're working on next.  No matter how much time passes by, I still think of Star Control.  I like seeing it pop up in news, especially when new games come out that have slight similarities to Star Control.  Hopefully we'll get more insight from TFB when a news update pops up on their website.  Who knows what will happen next?
What do you think?
UPDATE: Toys for Bob did not make Madagascar Kartz.