Posted on
August 11, 2011
by Anthony
"The game, which, to be perfectly frank, makes me really want a new Star Control​ game…"
…
"'This game is a cornerstone of the digital marketing campaign and an integrated part of the overall marketing strategy,' said Yasin Jensen, Digital Strategy Manager at Lego. 'We were anticipating the game would be a great success, but this has exceeded all of our expectations.'"
‐ Pete Davison, Gamepro.com, "Star Control Inspired Lego Star Wars Web Game Reaches 10 Million Plays"
"We were anticipating the game would be a great success, but this has exceeded all of our expectations."
To promote the recently released Lego Star Wars III: The Clone Wars, 4T2 Multimedia Limited created a flash game that can be played in a web browser for free. 4T2 is UK agency that specializes in "creating online games and websites for kids". It shares a few things in common with Star Control and it is definitely worth checking out.  In addition to single-player, two-player is available by clicking on the X-shape with the 4 arrows on the top right of the game near the mute button.
Ace Assault has been played over 10 million times.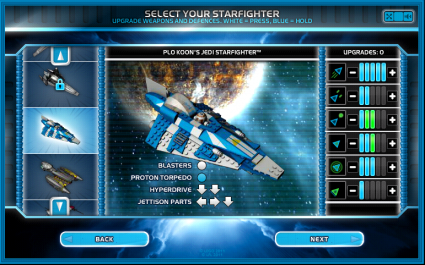 Each ship has unique stats, primary/secondary fire, and a key combination for a special ability.
There are a total of 10 ships to select, 2 of which need to be unlocked with a code.
It's been a long time since I've played Lego Star Wars. From what I've seen, Lego Star Wars III has had mixed reviews and people still considered it a good game for fans of Lego Star Wars. Ace Assault is a very interesting way to promote the latest game from Traveller's Tales; I've seen flash game promos before, but I think this is the first time I've seen a Star Control style game used to promote a popular franchise. It's definitely superior to the flash game that Atari produced, which was developed by a small team that only had a few days to finish it. The fact it's been played over 10 million times shows that this style of gameplay can reach a wide audience, it's easy to understand, and people have incentive to play it more than once.
I'd like to thank Pete for writing that article for GamePro and even recommending that people check out Star Control 1 and 2 on GOG.com.  Thank you 4T2 for creating this small promo that has made people think about Star Control once again.
What do you think?  Do you think this could be the sign of more Star Control related games to come? Speaking of which, I know of a bunch of indie games I want to check out and I wish I had more time to play them in more detail.
Links
Play Lego Star Wars: Ace Assault
Gamepro.com - Star Control Inspired Lego Star Wars Web Game Reaches 10 Million Plays