Posted on
November 9, 2008
by Anthony
In case anyone is still wondering, Toys for Bob has recently finished developing the video-game adaptation of Madagascar: Escape 2 Africa for the Xbox 360, PlayStation and Wii. Although there have been no announcements and no TFB logo shown in any of the Madagascar trailers, it can be a bit confusing to determine who is responsible for what. Here is a credits screenshot from MadagascarTheGame.com: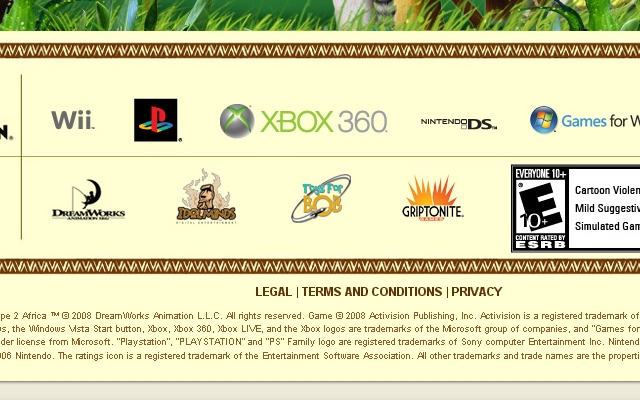 The above screenshot shows while TFB was working on three home console versions, there were other developers working seperately on the PlayStation 2, Nintendo DS and PC versions.
It's no secret that Activision makes large profits from these licensed-games. Many of these games are the result of Activision's contacts with companies such as Marvel Comics and DreamWorks Animations.
So, what's next for the gods at TFB? I honestly don't know! All I can do is guess. In addition to writing fan mail, Alex Ness has also asked us to send him our photos with something Star Control related in the background:
"So anyway, I'm going to buy a map. A real big one. Then I'm going to prominently display it somewhere in our office. Phase one of my plan will then be complete.

Phase two is where I once again, ask you wonderful community of fans for support. What I want is to put pictures of you guys up on this map."
‐ Alex Ness, April 28 2008
Will our letters and their world map be enough to convince them? Only time can tell. I still have my fingers crossed for them. This is a very anxious moment for us, the fans. I know that it's not easy to try something new instead of pushing another movie game. I remember Alex writing on the TFB website about Activision showing some interest in a Star Control sequel:
"Well, we have talked to our parent company Activision about doing a Star Control sequel, quite seriously, and there did honestly seem to be some real live interest on their part. At least on the prototype and concept‐test level. This is something we may in fact get to do when we finish our current game and clean our room."
‐ Alex Ness, June 14 2007
To be honest, I believe that Activision will eventually be forced to publish some original games, regardless of their merger with Vivendi Universal forming Activision Blizzard. Activision's well-known games are starting to get some serious competition:
Guitar Hero vs. Rock Band - The rights to Guitar Hero and the hardware designs are owned by RedOctane, who was purchased by Activision, and developed by Harmonix, who was purchased by MTV. After being bought out, Harmonix started the Rock Band series in 2007 which featured additional drums and a microphone. Guitar Hero didn't have these until Guitar Hero World Tour in 2008.
Tony Hawk vs. Skate - Tony Hawk's Pro Skater is the first game in the Tony Hawk series that debuted on the PlayStation 1, and was a great success which spawned many sequels on multiple platforms. I've played many of them and it is fun pulling unrealistic trick combos. EA Black Box wanted to make a skateboarding game that focus on realism and used the analog sticks to do tricks instead of buttons. This game would be known as "Skate". It had a really high-reception due to its realism and environments, despite some lag issues. EA Black Box is also making Wii and DS exclusive versions that make use of the Wii's motion capabilities, balance board and the DS touchscreen.
Crash Bandicoot vs. Super Mario vs. Banjo-Kazooie vs. Viva Piñata - The reason why this one is so long is because there are a lot of games geared towards a younger audience that are not necessarily platform games. Crash Bandicoot is no longer being made by its original developers, Naughty Dog, and is now in the hands of Radical Entertainment.
Call of Duty vs. Unreal Tournament vs. Medal of Honor vs. Team Fortress 2 vs. Left 4 Dead - There is no argument that Call of Duty 4 is considered one of the best games of 2007. It is one of Infinity Ward's best known games. There are more competitive first person shooters showing up this year, and many people have mixed feelings about Call of Duty: World at War going back to the past, with no information about what period Infinity Ward's Call of Duty 6 will take place in.
There's nothing wrong with a little bit of competition. Without competition, nothing would ever change. With the video game market getting more crowded, publishers should start thinking about how their game differs from others rather than the money spent on advertising. I know more people who have purchased Rock Band over Guitar Hero because it is something that people can play together when people visit.
If Activision could surprise gamers with a Star Control game instead of another rushed sequel for the holidays or a movie game, it would definitely grab attention. For it to succeed, it must be promoted as much as their other games, and TFB must have enough time to get everything done. TFB have always done their best with all their work and always meet their deadlines. They've been in the video game business for over 20 years, and with all that experience, one risk with an original game is worth taking.
When I think about how people compared games to Star Control like Mass Effect and Spore, it shows that after all these years, they somehow thought about Star Control doing it first.
In summary, I have no idea what TFB has planned next and I'm so exicited to read what their next news post will be. If you are reading this and you would like to support a new Star Control, please check out my petition page and the one at the the official UQM Sourceforge site. I know Activision loves their "low risk, high return" movie games and pushing sequels and with the competition starting to get stronger, I hope they understand how serious and dedicated TFB is and allow a new Star Control to be made. No matter what happens, we must stay strong, keep the fanbase alive and never stop showing our support.