Posted on
May 2, 2009
by Anthony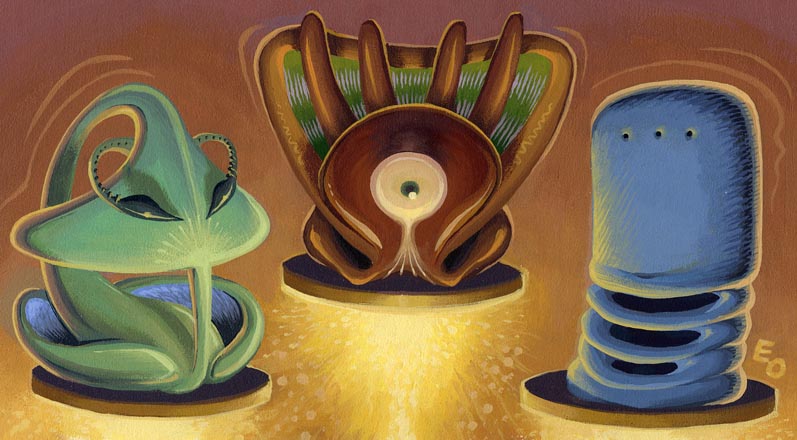 Painting by Erol Otus
Tor is a very popular science fiction and fantasy book publishing company.  Some of Tor's popular authors include Phillip K. Dick, Cory Doctorow and R.A. Salvatore.
Erol Otus started out as a cover illustrator for Dungeons & Dragons manuals.  In addition, he worked as an artist for the games that we all know and love:  Star Control and Star Control II.  His current title at Toys for Bob is Senior Game Designer.
The interview finished with Erol giving a shout-out to Star Control II:
Anything else you'd like to add?

Do you know about Star Control 2? It is a computer game I did some artwork for. It is an old but great game, play it!
Erol is being interviewed by Matt Staggs, who works as a literary publicist, reviewer and writer for Tor.  Matt seems to recognize Erol more for his on Dungeons & Dragons, which is understandable.  Even though Star Control is only mentioned once, Erol describes his art style, his use of colors and balancing realism and cartoony:
I've always been attracted to your work because I always thought it seems to eschew a sense of strict "realism" in favor of a more symbolic or impressionistic aesthetic. Is this a fair description? That is a fair observation, but I'm not thinking about realism versus anything. Just comes out this way. On the other hand it suits me fine and I don't try to change it.

How would you best describe your art?
Things that are present in my mind when executing/planning art:
1. That the rules the piece itself brings into being are followed.
2. Entertain myself (the best way to entertain other viewers I think).
3. At least try to make something that would never otherwise have been made.
For me these all apply to both fine art painting and illustrations. Any creative activity really.

What is it about working with games that you most enjoy?
The fusion of art and game design. Game design is a discipline that I've always been interested in.

Tell me about your color palette. You seem to favor otherworldly, bright colors, noticeably contrasting them with dark backgrounds.
Sometimes colors are influenced by non-aesthetic factors. For example: If you were illustrating a medical textbook and felt that the chest cavity was too dominated by reds and browns and it needed some sky blue... too bad! These necessities can come from one's own judgments as well.
I have never stopped to think about the art style that Star Control has. I knew that it obviously has one and I never really analyzed it until now. The game and its visuals are in fact colorful and it works. The way everything was visualized, I never said to myself "That's weird" or "What's that doing over there?" The Syreen are blue and it is the right shade to represent a skin tone without looking like a human painted blue.  The Zoq, Fot and Pik are different colors and shapes and still match with the background while giving the appearance that they work together.  Even the dark Kohr-Ah has bright red in it with a darker background which differentiates them from the Kzer-Za and convey a sense of similarity.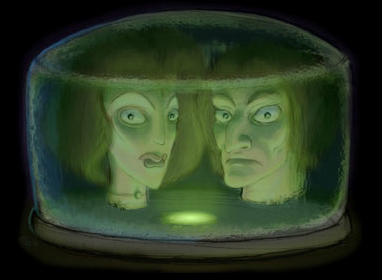 Erol's website is still under construction.
Erol Otus also has a personal website and it is still under construction as of this writing.  It displays the image above with text that reads "erolotus.com is in its early stages, it will shuffle into the light in the not too distant future."
Check out the review! Thank you Erol for taking the time to do the interview and for mentioning Star Control.