Posted on
September 10, 2009
by Anthony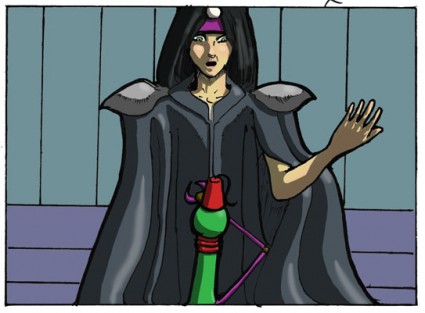 Eth's last preview
On September 4, Eth (Ethan Fleischer) posted his final preview frame and told everyone on SCDB that his comic would launch in a week.  Tomorrow, it will be one week, so hopefully we should see some more updates sometime soon.
Although I have no idea what the plot will be for this comic, I'll post some observations that readers may find interesting:
Different races boarding each other ships.  For example, an Umgah on a VUX Intruder.
There is an image of an Ilwrath throwing a dead Spathi into a furnace with an Umgah shouting "WAIT!"  Could it be a Druuge Mauler furnace?
There is an image of a human talking to a Spathi wearing a red cap.  The comic involves humans other than The Captain?  Maybe an encounter with the The Safe Ones (Spathi High Council)?
What is the green Ur-Quan holding in the first picture?  Could it be an excruciator, a device that would cause the Dnyarri great pain to prevent them from controlling their minds?
When the Ilwrath says "Is this passing strange", what is he talking about?  What happened to the Umgah's face?  Who went through the door on the right?
I love seeing Star Control art and I can't wait to see the comic in its complete form.  In addition to drawing, Eth also has experience in animation.  He has a Star Control website titled "Famous Battles of the Ur-Quan Conflict".  It contains screenshots from other ports of the first Star Control with a plot written by Eth from the perspective of an Earth historian named Eth Erasmus Blackthorne.
I can't wait to see more.  Thanks Eth for taking the time to share your comic with the world.